U Joint Information
Outside Lock U-Joints by Series
Series
Width
Cap
1210
2.438
1.062
All 4 caps
1310
3.219
1.062
All 4 caps
1330
3.622
1.062
All 4 caps
1310 BC (Ford)
3.219
2 @ 1.062 (shaft)
2 @ 1.125 (pinion)
1330 BC (Ford)
3.622
2 @ 1.062 (shaft)
2 @ 1.125 (pinion)
1350
3.622
1.188
All 4 caps
1410
4.188
1.188
All 4 caps
Handy Measurement Conversion
1.062 = 1  1/16
2.438 = 2  7/16
1.125 = 1  1/8
3.219 = 3  7/32
(3  1/4 is OK)
1.188 = 1  3/16
3.688 = 3  5/8
4.188 = 4  3/16
(4  1/4 is OK)
Outside Lock U-Joints Photos


This outside lock pinion yoke is used with outside lock U-Joints.  The 2 extra snap rings are not used. The driveshaft tube weld yoke has grooves machined in the edge where the snap rings clip in.  Measure from groove to groove.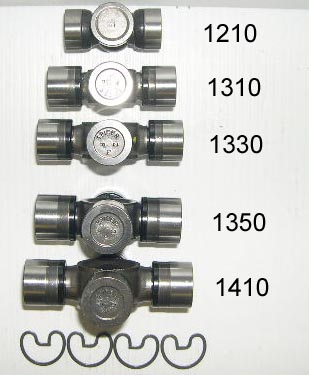 1210 U-Joint Series is a small U-Joint not used on any current production vehicles.  1.062 cap and 2.438 width.  (1 1/16 x 2 7/16) 1310 U-Joint Series is the most common U-Joint ever used.  It is still used on OE applications.  1.062 cap and 3.219 width.  (1 1/16 x 3 1/4 close) 1330 U-Joint Series is very common and used on OE production.  1.0625 cap and 3.622 width.  (1 1/16 x 3 5/8) 1350 U-Joint Series is used on trucks mostly for OE.  It is also a Hi-Performance upgrade on cars. 1.188 cap and 3.622 width.   (1 3/16 x 3 5/8) 1410 U-Joint Series is on 3/4 and 1 Ton or larger trucks. 1.188 cap and 4.187 width.  (1 3/16 x 4 3/8)
Inside Lock U-Joints by Series
 Inside Lock U-Joints are measured from the grooves in the caps where the C-clips fit not the overall width of the U-Joint like the outside lock type.
Series
Lock Up Width
Cap
3RL (S44 GM type)
2.556
1.125
All 4 caps
7260 (Dodge)
2.125
1.078
All 4 caps
7290
2.622
1.126
All 4 caps
Handy Measure Conversion
2.556 =2 9/16
1.125 = 1  1/8
2.125 = 2 1/8
1.078 = 1  1/16 + little bit (.016)
2.622 = 2 5/8
1.126 = 1  1/8 + 1 thousandth


On the left is a Pinion Yoke and UJ for inside lock.  The C-clips are facing up to photograph.  The clips should be turned down, so they fully insert in the back of the yoke.  This locks U-Joint for side to side play and centers it perfectly.  Never rely on the bolt and straps to hold it in place and it will not be centered. On the right is a Inside Lock Weld in type yoke.  The C-clips fit on the inner edge.
Inside Lock up U-Joint Photos.
One note on Inside lock U-Joints.  The GM 3RL and 7290 are fairly close, but will NOT interchange.  Always check the dimensions if not sure. not listed.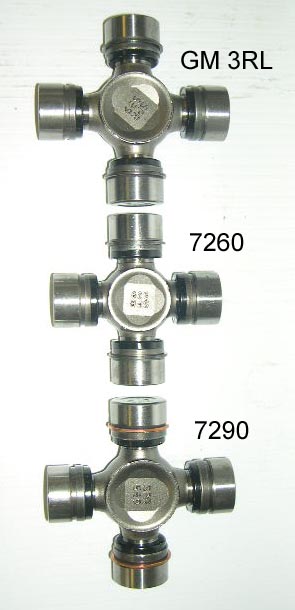 GM 3RL is 2.556 Inside Lock Up and 1.125 cap The GM 3RL U-Joint (also called S44)is used mainly on GM vehicles.  It has been used since the early 1960's and is still in current production. Interestingly it was also used on a very few Ford LTDII and T-Bird in 1979.  It was also used on some Dodge 4×4  Truck Front Driveshaft Double Cardan CV (constant velocity) Joint.  CV-3 in the Driveshaft Types 7260 is 2.125 Inside Lock and 1.078 cap 7260 is referred to as the "small Dodge" joint.  It is similar in size to the 1310 but the locks are on the inside.  This U-Joint series was used extensively up to 1980's in cars and trucks.  The 7260 was even used in Dodge Dually trucks. 7290 is 2.622 Inside Lock and 1.126 cap The 7290 U-Joint is known as the "Big Dodge" U-Joint.  This was used in early passenger cars typically with big block power and manual transmissions.  For trucks it varies dramatically and both are usually listed.  The only sure way to tell is with dimensions.